Deputation to Full Council Meeting, Lambeth Town Hall, 21st November 2012 Re: 'shortlife' housing co-operatives Delivered by Julian Hall, LUHC
I am sure that there is no one in this chamber who is now unaware of the issue of "shortlife" housing in Lambeth…
…and the complete nonsense that label has become nearly 40 years later!
Members of self-reliant, registered housing co-ops – of 4 decades standing – are being threatened with eviction by a supposedly co-operative council…
…and the process of "shortlife recall" is out of control…
…it threatens some of Lambeth's longest-term residents and it undermines the credibility of this council's collaborative aspirations.
We've reached this situation because of years of neglect on this issue by Lambeth – punctuated only by its abortive permanency deals and promises.
It can't be right to betray communities and then purge them to raise funds through evictions…
…and in the process for Lambeth to pay out large amounts of money to lawyers, vacant property managers, contractors and auctioneers.
There's a litany of failings here – and I know that there are plenty of people in this room who are uncomfortable with this –
…but If the council is not already aware of how this situation is perceived let me spell it out…
…first, how about some input from Lambeth's own Co-operative Council Commissioners?
"I do certainly sympathise with your position" says one, "and view that it would be in the spirit of the 2011 Housing commission report, for Lambeth to work with you more collaboratively."
Here's another commissioner:
"I think it is important that they understand how to deal with legitimate challenges such as the ones you have raised. If they do not understand how to do this, there will be no hope for the development of a Cooperative Council."
And finally one more Co-op Commissioner who simply said:
"Next time I see Steve, I am going to encourage him to get a grip on matters before the project loses its credibility."
Well, let's hope he finds the new leadership more credible!
And let's not also forget Lambeth's own councillors including Cllrs Wellbelove, Haselden and O'Malley who said:
"We have reminded colleagues and officers that some of these homes would not be standing if it was not for the work of the people living in them."
They also remarked that…
"It would be senseless as well as expensive to evict people only to have to re-house them again."
Even the people who come to buy our houses are not impressed!
"Why don't they just give you tenancies?" one said.
"It's ridiculous isn't it, after 25-30 years or more?" said another
"I'd rather be dealing with Westminster, at least they are honest about being nasty."
But also on the flipside of this, is one charming lady who typified the purge of a community:
"I've listened to what you have said about your community being here for nearly forty years but I don't care, I want that house."
…and whoops there goes the neighbourhood!
We are not asking for favouritism but the chance to continue living along co-operative lines.
We are not asking the council to repair our homes, we want to continue to do this within a co-op – at no cost to the borough – and apply our experience to empty homes.
So, Lambeth – rather than funding reserves and services through evictions – engage with the 'Super Co-op' solution that will both guarantee and extend social housing in the borough.
Thank you.
[Ends].
Note:
Additional quotes that were not used because of time constraints:
..the auctioneers Andrews & Robertson said of one sale:
"You can understand why they didn't want the property sold."
"This shouldn't be happening."
Lambeth Assembly Member for Lambeth & Southwark, Val Shawcross
Bid to stop housing auctions goes on…
TENANTS living on a South London estate have vowed to continue their fight to keep their homes despite the first property in their street being sold at auction.
Auctioneers and potential buyers were interrupted by protesters when they tried to look at number 11 Rectory Gardens in Clapham last week.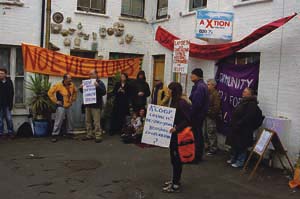 And the action group were outside the auction at a central London hotel on Monday when the house went for £500,000 to an anonymous buyer.
Residents of the local housing co-operative object to the decision by Lambeth council to start selling off "short-life" housing that people have been living in for 25 to 30 years, which the protesters say belong to the co-operative and not the authority.
Julian Hall, of Rectory Gardens Housing Community (RGHC), said: "We protested outside the auction and went inside in time to find out that it didn't sell – but was later sold by arrangement for £500,000."
RGCH has previously said residents not in a position to buy the homes they live in have suggested the creation of a "super-co-op" which would repair the properties before returning them to the council's social housing stock, with existing residents offered full tenancy rights. Mr Hall said: "The next step is to continue to lobby for the co-op solution."
He pledged that further protests would be staged as and when properties became vacant.
A Lambeth council spokesman said: "The council has to make decisions based on the benefit to the wider community and the costs to bring these properties back into use at a decent standard far exceeds the cost of investment in the socially rented stock.
"The council is serious about its ambition to be a co-operative council.
We will look at any cooperative solution but we cannot favour a small group of residents to the detriment of others.
"Lambeth Council tenants across the borough desperately need investment in their homes and we are committed to delivering that investment."